Nepal
Nestled in the cradle of the highest mountain ranges on the planet, Nepal unfolds its surprises in peals of powerful and contrasting shades, from dense lowland jungles to the golden treasury of medieval Kathmandu and upwards into the dazzling heights of the snow-clad Himalayas,all in an expanse, smaller than that of Florida. Commonly known as the mountain kingdom of the world, Nepal is also considered the roof-top of the world. It boasts of boundless charms in the form of rivers, lakes, mountains, diverse flora and fauna and natural conservation parks which are sanctuary to the world famous Royal Bengal Tiger, a species on the precipice of extinction.
The best seasons for visiting Nepal are October to March.
Clipper Holidays
could organise for you a cultural & wildlife tour or combine that with some thrilling adventure options! check us out!
Kathmandu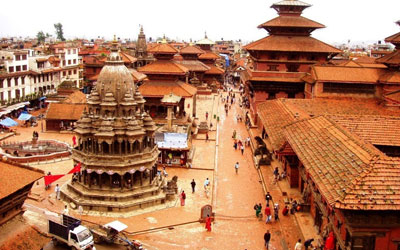 The hub of Nepal, a living open air museum of artistic temples, elegant palaces, and quaint streets. Here you have the residence of the Living Goddess Kumari, fascinating stupas, and pagodas housing the sacred linga or phallic symbol.
Wildlife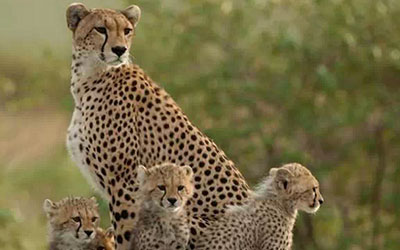 Located at a staggering altitude in densely vegetated regions of the ranges, Nepal is home to some of the finest species of fauna in the animal kingdom. The Royal Chitwan National Park, established in 1973 and situated about 160 km from the capital, Kathmandu, is spread over an area of 932 sq. km . The park earned the distinction of a World Heritage Site' in the year 1984.
It is haven to more than 43 species of mammal and is especially renowned for the endangered one horned rhinoceros, the tiger and the gharial (crocodile).
Among other animals that can be sighted here are sloth bears, leopards, wild boars, monkeys, four species of deer, small white cats, striped hyenas and over 450 species of birds, many of which are migratory.
Adventure and leisure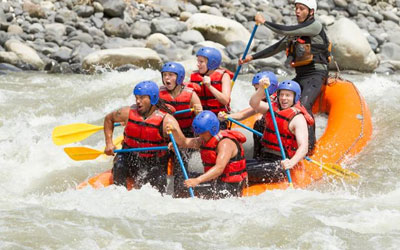 The mountains of Nepal feed some of the world's most challenging rafting and kayaking courses. We organize rafting and kayaking trips at all difficulty levels and can combine white-water rafting with trekking and wildlife tours to make it a memorable experience for you. You could enjoy elephant safaris, nature walks, dugout canoe excursions and jungle drives, all at reasonable rates. Cultural tours, folk dance programmes will help you envisage the traditions and lifestyle of the native populace of this beautiful kingdom.
Pokhra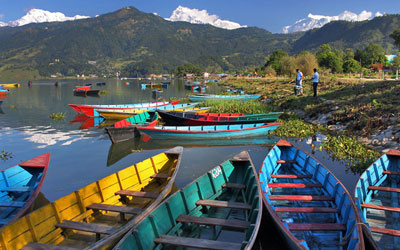 Located at the base of the Annapurna range of the Himalayas, Pokhra is the most popular adventure hub of the country. It is the starting point for many of Nepal's most popular trekking and rafting destinations. Pokhra is a place of remarkable natural beauty. The serenity of Phewa lake and the magnificence of the fish - tailed summit of Machhapuchhre (6977 mts) rising behind it creates an ambience of peace and magic.

For Itineraries